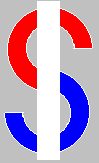 Get
Rich
Slow <!img src="/cgi-bin/Counter2?sh=N&df=getrichslow" align=absmiddle> <!img src="/cgi-bin/SmartCounter?sh=f&df=alacrity.data" border=0> <!img src="/cgi-bin/SmartCounter?sh=f&df=alacrity.data" border=0>
Homepage
Can you get rich in just a few years? I did. Let me share my tips on how to be a good consumer and investor, and you will be on your way.
Why is this web site called Get Rich Slow? No one can get rich quick legally. Many can get rich in a lifetime (much too slow). A realistic goal is to achieve a reasonable amount of financial success in a handful of years. Then money will come in faster than you can spend it. It takes intelligence, patience, and, pardon the expression, WORK. Please read the information below and get rich.
EXTRA:
Comprehensive Table of Contents

EXTRA:



You may email questions and comments to alacrity@getrichslow.com

This site is best viewed with Netscape Navigator or Internet Explorer.











LinkExchange Member
<!src="http://ad.linkexchange.com/X159658/logoshowad?free">


Copyright © 1996 Alacrity Research