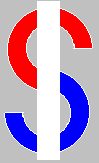 Get
Rich
Slow
Condominiums
A condominium is a one level home in a building of several of these homes. It is just like an apartment, except that you own it. Getting a condominium may be as simple as buying your apartment from your landlord.
When you buy a condominium, you buy just the condominium, not the building and not the ground. You must join a homeowners association and pay a fee. This fee can be $100 to $300 per month. Also, you lose a certain amount of independence. The homeowners association decides if your requests are valid.
On the bright side, a condominium requires little more responsibility than an apartment. It may be a good choice for those who clicked on Some People Do Not Want the Responsibility of Owning a Home .
One problem with condominiums is that eventually you will want a bigger home. You will put the condominium on the market only to find that it has not kept up with inflation. Do not despair. Even with no appreciation in price, the condominium is a better deal that an apartment. If you want to avoid the lack of appreciation and lack of room in condominiums and do not mind the extra responsibility, perhaps you should consider townhouses .
Homepage
Copyright © 1996 Alacrity Research